20.09.2013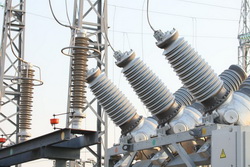 Distribution Zones of IDGC of Centre — Orelenergo division have received their certificates of readiness — the official documents confirming the full preparedness for the autumn — winter peak loads.
Timely and high-quality preparation of electric grid facilities of Orelenergo for the winter was assessed by the Commission, composed of representatives of the technical control of the branch. It checked the state of equipment of substations, power lines and quality of repair performed. The main directions of Orelenergo in preparation for the autumn -winter operation period were the implementation of key production programs to repair, replace worn-out equipment, and improve the reliability of electrical networks.
So, for 9 months of this year as part of the repair and operation program a comprehensive renovation of 301.3 kilometres of 0.4-10 kV power lines and 140.2 kilometres of 35-110 kV transmission lines and four substations was completed. Element-wise repair of the main equipment at 53 substations of 35-110 kV was performed and 4 reclosers were installed on 10 kV power lines.
In preparation for the autumn-winter operation period, and within the repair program ROWs along overhead power lines are being cleared. In total in 2013 it is planned to clear 876.6 hectares of ROWs from woody vegetation to date the work has been performed in an area of 621.7 hectares.
The branch pays particular attention to the quality of preparation of electrical networks and equipment in substations, transformers operating modes, other oil-filled equipment at high loads. The power engineers also keep under special control of staffing of maintenance crews with all necessary equipment, availability of motor vehicles. Orelenergo is fully provided with an emergency reserve of equipment, spare parts and materials, special vehicles for restoration operations in the autumn-winter operation period.
Full check of the status of electric networks of IDGC of Centre — Orelenergo division to operate in the winter period will be completed on September 25 to receive a single certificate of readiness, confirming the ability of the energy company to the smooth operation through the autumn-winter 2013-2014 period.