19.09.2013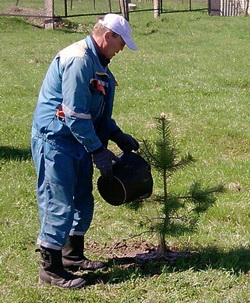 In 2013, the Smolensk region celebrates the 70th anniversary of the liberation from Nazi invaders. In anticipation of the holiday on the territory of the region there are many activities passing that also involve staff of IDGC of Centre — Smolenskenergo division.
The other day the staff of Temkinsky Distribution Zone of the branch planted trees and laid the Alley of Power Engineers, dedicated to the fallen heroes who participated in the liberation of the Smolensk land from invaders. The event was attended by employees of the Distribution Zone, representatives of the Council of veterans of war and labor, active members of the district scouting force «Hope» and schoolchildren of Temkinsky secondary schools. The participants planted 70 firs, thereby beautifying the district Memorial Field.
«In the future we plan to install a memorial sign at the entrance to the Alley so that residents and visitors of Temkino could see the names of the defenders of the Smolensk region,» said the head of Temkinsky Distribution Zone Alexey Ershov.
In spring of this year, the employees of Smolenskenergo planted 1150 tree seedlings. The number of the trees symbolizes the 1150th anniversary of the hero-city of Smolensk, which is celebrated in 2013.