19.09.2013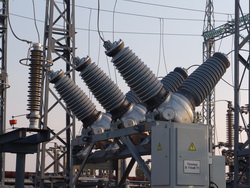 IDGC of Centre — Yarenergo division has started performing the target program to improve reliability under which the power engineers will replace outdated equipment in five major supply centers of the region.
The reconstruction in terms of improving the reliability is being performed at the substations «Khaldeevo», «Tishino», «Friendship », «Meadow» and «Borisogleb». In total, 30 new transformers 10-110 kV, 16 relay protection and automation devices, 11 gas-insulated circuit breakers of 110 kV and 6 vacuum circuit breakers 10 of kV, as well as two operational control rooms and 2 operating current control devices will be installed at these facilities.
Outdated equipment has to be replaced with new, more modern and reliable pieces. For example, gas-insulated switches do not require any special maintenance, are compact, safe in maintenance and have high resistance to fire. Vacuum circuit breakers, which will replace the oil ones, have more switching resources, environmentally friendly and are capable to operate in extreme weather conditions.
Yarenergo's costs under the program will amount to 53 million rubles. All installation of the new equipment will be completed by 16 October 2013.