17.09.2013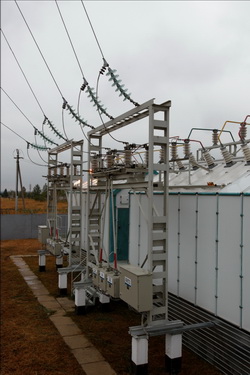 In order to further improve the quality and reliability of power supply, as well as to meet the increasing demand for energy consumption IDGC of Centre — Lipetskenergo division continues renovation of power facilities, providing for a gradual upgrade of substations and power lines, eliminating power shortage at unavailable power centers, as well as increasing the transmission capacity of the grid.
The largest facilities under reconstruction of the branch in the second half of 2013 will be the 110/10/6 kV «Southwest» and 35 kV «Zadonsk- rural» substations.
The large-scale investment project on the reconstruction of the 110/10/6 kV «Southwest» substation in Lipetsk, as a result of which the installed capacity of the substation will increased to 120 MVA, is designed to meet the growing energy needs of the South-West district of the regional centre, characterized by high rates of housing development. As part of the reconstruction the substation will be equipped with modern high-tech equipment that meets the requirements of reliability, safety, and compliance to environmental regulations, as well as remote control, relay protection and automation systems of a new generation will be installed that allow to improve the efficiency of technological processes in the grid. Completion of all planned work, which the power engineers started early in the year, is scheduled for December 2013.
To date the substation has a power three-phase transformer with its capacity of 40 MVA, indoor switchgear of 10 kV and outdoor switchgear of 110 kV, relay protection and automation equipment installed, and 6.9 kilometers of control cables laid. Until the end of the year Lipetskenergo's specialists will have also to perform installation of a commercial electricity metering system and complete commissioning activities.
In parallel, the power engineers are reconstructing the 35 kV «Zadonsk-rural» substation with replacement of a power transformer of 2.5 MVA for a new one of 4 MVA. The project is scheduled for completion at the end of the third quarter of this year. The project will create opportunities for new grid connections, thus ensuring further development of SEZ at the regional level of the tourist-recreational type «Zadonschina».
It is also important to note that all construction and electrical work on the reconstruction of the above-mentioned substations are performed without power outages, the power to consumers is fully supplied with a temporary power supply scheme. In addition, the performance of the work was performed in strict accordance with the requirements of environmental safety.
In accordance with the investment program of IDGC of Centre around 150.3 million rubles will be spent on the implementation of these projects.