09.09.2013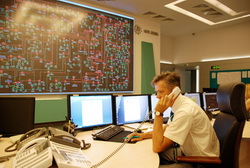 In the Kursk region in preparation for the autumn-winter operation period, a joint emergency response exercise was held for operational staff of IDGC of Centre — Kurskenergo division, branch of JSC «FGC UES» — Chernozyomnoye PMES, JSC «Kursk Electrical Networks», and branch of JSC «Quadra» — «Southern Generation».
The training was conducted in order to verify and practice personnel interaction of the power industry subjects at enabling a temporary outage schedule in the power system of the Kursk region.
The scenario of the training called for the elimination of a technical violation in the regional power system associated with the emergence of the power deficit of 50 MW, resulting in a voltage drop below the minimum level.
After the command to enter in the schedule of the temporary outage of consumption in the amount of 50 MW the personnel of Operational and Technological Service of Kurskenergo's Grid Control Centre started performing circuit and operation mode measures aimed at preventing the development of the failure and eliminating the normal operation mode violation.
An operator of Operational and Technological Service of the Grid Control Centre distributed the set capacity by sections, gave orders to perform the temporary outage schedule to first responding mobile crews, operational and technological groups and staff of customers' substations.
In accordance with the approved regulations an operator of the Grid Control Centre reported to an operator of the Kursk Transmission Control Centre, notified the General Directorate of EMERCOM of Russia in the Kursk region, responsible persons of Kurskenergo and IDGC of Centre of the temporary outage schedule, as well as on the causes and duration of the outages.
All actions of the operating and dispatching personnel of Kurskenergo up to the immediate elimination of the power shortage were carried out professionally and in a timely manner. This was the conclusion of the training managers and supervisory authorities.
«Emergency response exercises are an essential step in the process of training the operating personnel, development of practical skills, actions to ensure reliable power supply in the Kursk region in the most difficult conditions,» stressed Deputy Chief Engineer of IDGC of Centre — Kurskenergo division Dmitry Martemyanov. «The elimination of a conditional process violation in the shortest possible time says about the readiness of Kursk power engineers to ensure reliable operation of the power system of the Kursk region in the coming autumn -winter operation period.»