21.08.2013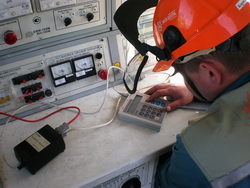 For the 6 months of the year Tverenergo spent about 5.6 million on training, retraining and advanced training of personnel. 882 employees of the branch had their training. Of these training courses were completed by 214 people of working staff, 99 workers were retrained on safety, 124 managers, professionals and employees of the branch were trained in various areas in the field of industrial safety.
The working specialties, for which the training was, were «Electrician of a first responding mobile crew», «Electrician to operate distribution networks», «Electrician to operate metering devices», «Instructor-resuscitator», «Master of a Distribution Zone» and others. A number of employees received their second education in the profession: «Operator of a drilling and crane vehicle», «Slinger», «Electric and gas welder», «Electrician for repair and installation of cable lines», «Operator of an aerial platform», passed courses for admission to work in cradles located on lifts.
The main partners of Tverenergo in training and retraining are the Tver Training Centre, the State Organization «Institute of Professional Administration and Comprehensive Energy Efficiency» of the Ministry of Education and Science of the Russian Federation, the All-Union production enterprise «National Research University «MPEI», the Federal State Autonomous Educational Institution of Continuing Professional Education "Academy of Standardization, Metrology and Certification, the All-Union production enterprise "Tver State Technical University «and other educational institutions of the Tver region and other regions.
«The current pace of development of the power industry is very high. There are new technologies emerging, more stringent requirements for quality of service are set, and transparency of technological procedures is increased. It's hard to overestimate the importance of qualified personnel for the safe operation of the Tver power system,» underlines the head of Human Resources of IDGC of Centre — Tverenergo division Sergey Zhirkov.
Maintaining a high level of staff is a priority of the human resources policy of IDGC of Centre. IDGC of Centre — Tverenergo division puts the main emphasis on training, which is aimed at improving the health and development of the professional competence of employees. Until the end of the year, the branch will have more than 450 power engineers trained.