22.08.2013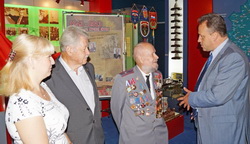 On the eve of the 70th anniversary of the Kursk Battle IDGC of Centre — Kurskenergo division held events in honour of veterans who were power engineers, and who took part in the Kursk Battle. Representatives of the Veterans' Council and Youth Council prepared for the veterans congratulations and presents to the anniversary memorial date. Some events were held at the Museum of the History of the Power System of the Kursk region, which houses an exact replica of the Victory Banner — a military relic, a symbol of the Great Patriotic War.
Deputy General Director of IDGC of Centre — Kurskenergo division director expressed to the veterans — participants of the Kursk Battle words of gratitude on behalf of the entire team of Kursk power engineers: «We are indebted to you. You not only gave us a peaceful life and independent state, but also an incredible lesson in patriotism, faith in themselves and your future. You will remain an inspiration for many generations of power engineers who will carefully preserve the memory of those who put the lives and health for the benefit of the country and in the name of the Victory.»
One of those, who came to the end of the war, survived and met the long-awaited victory, and then, after the war, worked selflessly in the power industry, devoted much of their professional life, were Ivan Cherdak, Valentina Safonova and Ivan Chernyshev.
Ivan Cherdak participated in combat operations at the Kursk bulge already as a lieutenant, having the Order of the Red Star and the Medal «For the defense of Stalingrad». In the difficult days of the decisive tank battle in the village of Prokhorovka he provided communication of the headquarters of the army with the fighting units.
The frontline biography of Valentina Safonova began on the eve of the Kursk Battle. In March 1943, a young girl was qualified a hygiene instructor, and in July at the Kursk land fearlessly carried wounded reconnaissance scouts from the battlefield.
Ivan Chernyshev was also drafted into the Soviet Army in 1943 at the age of seventeen, and immediately got into a millstone of terrible battles of the third summer of the war. He, like his father, who died at the front, was destined to become a combat engineer.