20.08.2013
IDGC of Centre — Kostromaenergo division summed up the children's electrical safety contest «Finish writing three fairy tales». The event was held in conjunction with the magazine «Teleseven». Stories on the energy theme that was to be continued were published in three issues.
In total the jury from July 1 to August 5 received 24 fairy tales-compositions of young Kostroma residents aged from 6 to 12 years. In the works carried out in different genres, the younger generation expressed their ideas about energy, artistically displaying the theme of danger of the electric current, correct handling of electrical appliances and dependence of human life on sustainable power supply.
The contest identified 3 winners, they were Tatiana Brovkina from the village of Ponomarevo in Vokhomsky district of the Kostroma region, Daria Lytkina of Galich and Daria Belovs of Kostroma. The young participants not only continued all the three stories, but sent colour illustrations to them. All the young winners and participants were rewarded with gifts.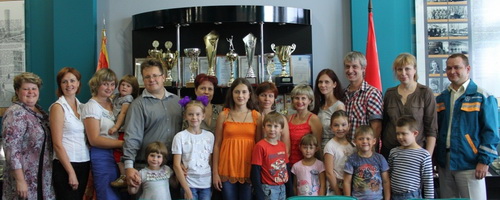 The awarding ceremony was held at the Museum of History of the Kostroma power system of IDGC of Centre — Kostromaenergo division. There the children were given a tour during which they learned about the history of the Kostroma power industry.
The contest was part of large-scale and focused work of IDGC of Centre — Kostromaenergo division for children's electrical injuries prevention. Taking care of the younger generation, and increasing the knowledge of the rules and electrical safety in the home and away from home is a task of special social significance for the power engineers.
Attending the event, Deputy Chief Engineer, head of distribution networks Office of Kostromaenergo Alexander Chutkov in his congratulatory speech underlined that for the first half of 2013 Kostroma power engineers held classes on electrical safety in 178 educational institutions of the city and the region. These events were attended by over 7,500 children and adolescents. Kindergartens, schools, orphanages, social rehabilitation centres, school camps and country health camps were involved.
At the beginning of the new academic year a new phase of a large-scale prevention campaign starts in the Kostroma region.