16.08.2013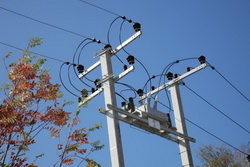 In the I half of 2013 IDGC of Centre — Orelenergo division spent more than 168 million rubles on the investment program. Compared to last year the volume of investments increased by 15 million rubles.
120 million rubles were invested in the construction and reconstruction of power lines in the region. 38 kilometres of power lines were constructed, and about 8.3 kilometres were upgraded, which improved the power supply to consumers of the Orel region.
Orel power engineers of IDGC of Centre invested more than 97 million rubles in the construction of grid connection facilities. During the first half of 2013 the construction of 37.5 kilometres of overhead lines of 10-0.4 kV for 268 consumers was performed, 12 transformer substations of 10/0.4 kV with a total capacity of 0.63 MVA were installed. For the period January-June 2013 under the grid connection 0.8 km of 10-0.4 kV cable lines for power supply of a residential area of the city of Orel «Botany» was constructed, and 2 modular transformer substations of 10/0.4 kV with a capacity of 3.26 MVA were installed.
In the I half of 2013 the reconstruction of the 110 kV substation «Zalegosch» was completed. The project was realized with the purpose of renovation of equipment, ensuring power supply reliability of Zalegoschinsky district and reducing electrical energy losses.
Experts of Orelenergo use the latest technology in their work, which allow to increase the service life of power facilities. For example, to provide automatic backup power supply to consumers in case of failures in distribution networks 10 kV reclosers were installed on power lines.
In addition, design and exploration work is actively carried out for future projects. In particular, in the nearest future it is planned to reconstruct the 110 kV overhead line «Mtsensk-Black», «Mtsensk-Plavsk», to replace wire of the 110 kV overhead line «Livny-Upper2», and to construct the 110 kV overhead line «Kolpny-Maloarkhangelskaya» and 10-0.4 kV power lines.
The goal of all work is to ensure reliable power supply to consumers and creation of conditions for their grid connection to electrical networks in the Orel region.