19.08.2013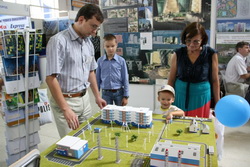 IDGC of Centre — Belgorodenergo division was awarded medals at the X Inter-regional Exhibition «Modern City. Building Industry. Energy. Resource conservation. Ecology », which took place in Belgorod, from 7 to 9 August. The branch received the award in the category «Energy-saving technologies, equipment and materials».
The Inter-regional Specialized Exhibition was held in conjunction with the IX Belgorod Building Forum and IV Russian-Turkmenian economic forum organized by the Chambers of Commerce of Russia and Turkmenistan. The event was attended by representatives of key sectors of the economy of Turkmenistan and 27 regions of Russia, Belarus and the Ukraine. The guests got acquainted with the achievements and future developments in the field of construction, energy, energy-saving technologies and utilities.
Belgorod power engineers presented a whole package of measures to immediately establish some effective innovation energy infrastructure in the region.
Since 2009, Belgorod branch of IDGC of Centre has served a leader in the implementation of the project «Smart City — Smart Grid» aimed at improving the reliability of energy supply, energy efficiency and reduction of the cost of electricity transmission. The use of modern digital technologies and intelligent automated systems allows to efficiently manage the complex grid of the region and to respond to everything that happens in the system.
«The concept of smart grids is not just a collection of modern technologies, this is the style and vector of the electric grid company operation, aiming to achieve a single goal — to be accessible and invisible to consumers,» underlines the head of the energy conservation and efficiency Office Natalia Yakshina. «Not only and not so much the technologies themselves are important, how their interaction and targeting of operation. With the exposition we wanted to show our customers how intelligent grids are designed and what they consist of, and to recommend a range of services as well. First of all, these are services related to the modernization of electricity metering, without which the smart grid will not be able to exist.»
Participants of the construction and economic forums were interested in the performance of the company in the field of efficient energy resources metering, automatic outdoor lighting control, testing and application of energy-saving technologies. It should be noted that today these and a number of other projects either in the pilot or replicating areas already operate in all regions of IDGC of Centre, improving the quality of electricity supply to consumers.
Within the business program of the Forum and Exhibition a series of meetings, seminars and consultations on topical issues of the construction industry and energy was held.