16.08.2013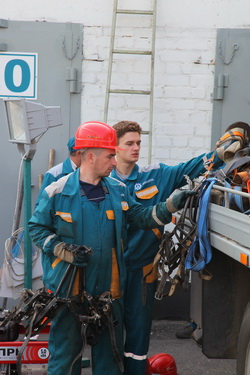 August 15 in preparation of the emergency services and municipal utilities for the autumn-winter operation period IDGC of Centre — Belgorodenergo division took part in a large-scale exercise in the aftermath of natural emergencies. The power engineers worked out interaction with rescue teams, services of utilities and local authorities of the region.
Under the scenario terms as a result of strong winds and wet snow in November, there was a mass outage of overhead power lines, which led to a shutdown of boiler plants, pumping stations and other facilities of housing and communal services. More than 138,000 people had no power supply. In Belgorod the emergency zone covered a boiler of Belgorod Heat Distribution Company in Gubkin Street, which provides heat to 246 people. A first responding mobile crew of IDGC of Centre — Belgorodenergo division immediately came to the place, a first responding vehicle with a diesel generator of a branch of JSC «Quadra» — «Southern Generation» and employees of the Civil Defense and EMERCOM of the city of Belgorod.
The power engineers tested the voltage in the boiler room, secured the area for work, and controlled the process of connecting the facility to the backup power source. For half an hour the boiler plant was powered with a stand-alone diesel generator and the electricity and heat supply to the residential house was completely restored.
«The boiler room operation must be restored for 30-40 minutes to avoid thawed battery, pipes and other heat power equipment. All the emergency services worked well, performed within the planned time and restored the boiler room operation in the normal mode. I saw no serious flaws, everything went according to the plan,» stressed the leading specialist for mobilization and civil defense of IDGC of Centre — Belgorodenergo division Alexander Kolomytsev.
Such exercises involving all emergency services were held in all districts of the region. The interaction was worked out for other six boiler plants in Belgorod, Valuisky, Volokonovsky districts and Gubkinsky urban district. By 14.00, the electricity and heat supply to consumers had been completely restored.
Such trainings in the Belgorod region are held regularly and allow to check the staffing of maintenance and mobile crews of Belgorodenergo and readiness of emergency services for the elimination of consequences of natural and man-made disasters. They also help work out the interaction of power engineers, rescue workers, services of utilities and local authorities so that in the cold time of the year to be able to quickly restore electricity supply to consumers and work of housing and communal services.