06.08.2013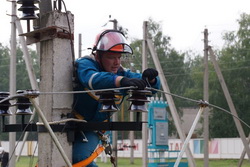 This year, the professional skills competitions of staff of IDGC of Centre — Lipetskenergo division, directly involved in the work at power facilities, were held at the training centre of the Zadonsky Polytechnic College.
17 teams competed for the title of the best crew of electricians of electricity distribution networks.
During the three days the power engineers demonstrated their professional knowledge and skills in going through stages, including checking theoretical knowledge and practical skills for the rescue of the victim and resuscitating him, extinguishing the fire, replacing wire termination on the 10 kV overhead line and repair of the 0.4 kV conductor with removal of a package transformer substation for repair.
While performing the task as close to real conditions as possible, the teams were assessed for the quality and time of going through the stages. Particular attention of the panel of judges was drawn to compliance with safety regulations.
As a result, the team of Yeletsky Distribution Zone showed the best result, having scored 515 points out of 545 possible. Its members, having repeatedly become winners of professional skills competitions, once again confirmed their high professional skills, the maximum coherence in the actions, stamina and ability to make decisions in complex production situations. Second place on the pedestal of honor of Lipetskenergo was taken by the team of Gryazinsky Distribution Zone with 513 points. The team of Khlevensky Distribution Zone yielded only 5 points to them.
The best driver was also identified as part of the competitions. With the result of 67 points out of 70 possible it was Roman Merzlyakov, a driver of Gryazinsky Distribution Zone.
In the nomination «The highest psychophysiologic qualities» the electrician of Volovsky Distribution Zone Andrew Markeev was noted.
All participants of the winning teams were presented with certificates and gift certificates for the purchase of household appliances. The winners also took the main prize of the competition — a gift certificate for 50 thousand rubles. The money will be used to improve the working conditions of staff.
At the end of the event, Deputy General Director of IDGC of Centre — Lipetskenergo division director Alexander Konanykhin thanked the staff for their participation in the competition, as well as for the team spirit and will to win. «Your wish to win in the first place means the desire to work well, feel themselves to be professionals and be useful to people. Given that the quality and efficiency of your work directly impacts on consumers, we can say that, first of all, they won today, because now they will served by the best team of Lipetskenergo.»
Professional skills competitions are held in the branches of IDGC of Centre annually in order to strengthen the training of personnel, as well as the introduction and spread of best practices. As the practice shows such events are the most effective method of motivation to further improvement of professionalism.