19.07.2013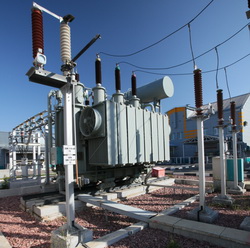 Until the end of 2013, IDGC of Centre — Orelenergo division will spend 427.3 million rubles on the implementation of the investment program. Compared to the same period last year, the investment grew up by 59.5 million.
334.0 million rubles will be spent on improving the reliability of networks through technical re-equipment and reconstruction. It is planned to allocate 93.3 million for new construction and expansion. Of the total investments by the end of the year 91.9 million rubles will be spent on grid connection to Orelenergo's networks, including the public and small businesses.
In the second half of 2013 targeted programs implementation will continue, including the work on the replacement of oil switches in 6-10 kV bays for vacuum and outdated protection for the microprocessor protection «Sirius» at the 110 kV Substation «Chemical Engineering», «South» and «Alshanskaya», and replacement of isolating switches and short-circuiting switches at the Substation «Naryshkinskaya». Capital investment in facilities of the Target programs in July — September 2013 will amount to 47.1 million rubles.
The largest reconstructed facility of the second half of the year will be the Substation-110/35/10kV «Kolpny». At this facility the reconstruction of the outdoor switchgear, installation of two bays of outgoing 110 kV Conductors, installation of microprocessor protection, etc has been completed. The reconstruction of the substation will ensure the reliability of electricity supply of consumers of Kolpnyansky and Livensky districts. Planned capital expenditures will amount to 52.2 million rubles.
To ensure the reliability of power supply of consumers of Uritsky district, it is scheduled to perform works of at 110 kV switchgear of the Substation-110/35/10 kV «Naryshkinskaya» in August — December 2013. Planned capital expenditures are 38.3 million.
In order to ensure the reliability and quality of electricity supply for residents of the region in the second half of 2013, 10.2 km of 10 kV Conductor in Orel district, 24 km of 0.4 kV Conductor in Livensky, Orel, Mtsensky, Pokrovsky and Novosilsky districts will be reconstructed, and the installation of reclosers on the 10 kV Conductor will be completed. Total capital investment in these projects will amount to 48.8 million rubles.
An essential part of the modernization program is to improve automation, telemetry and communications systems. The project for implementation of the energy-saving and enhancing the energy efficiency AMR system at the retail electricity market will continue.
Overall, in 2013 the amount of capital investments of Orelenergo will be 595.5 million rubles.