10.07.2013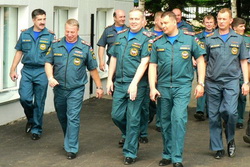 June 27, 2013 IDGC of Centre — Tverenergo division took part in the All-Russian training camp with deputy heads of crisis management, as well as with heads of departments of communication, warning and information system of territorial bodies of EMERCOM of Russia.
This year, such a camp was in the Tver region. And Tver power engineers of IDGC of Centre had the opportunity not only to demonstrate the strength and means used for elimination of possible emergencies and restoration work, but also to show the order of work of the dispatch service in co-operation with EMERCOM when an operational event related to power failure.
While visiting IDGC of Centre — Tverenergo division the participants were interested in the exchange of information between the power industry and the Centre of Crisis Management (CCM) of EMERCOM. Experts of Tverenergo told in detail about the order in a period of emergency, on receipt, compilation and transmission of information, on interoperability with a single duty dispatcher service (SDDS) in districts of the region, the organization of video conferencing with the CCM of EMERCOM in the Tver region and how to report on the operational situation in case of process failures.
According to Deputy Chief Engineer — Head of the Grid Control Centre of the branch Vladislav Ostrik, this event allowed us to estimate the quality of interaction of duty units of Tverenergo and EMERCOM compared with the organization of similar work in other regions.
Representatives of EMERCOM shared their experience in working with the power engineers, spoke about the features of information exchange in neighbouring IDGCs and praised the advantages of a single database of productive assets SAP R/3, which allows simultaneous access to information about disconnected consumers at all levels of control.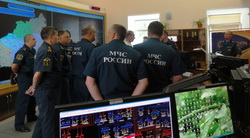 The power engineers showed the guests samples of necessary special vehicles, ready to take part in restoration operations in an emergency. Crew vehicles of power engineers were presented, equipped with accommodation space of a master with necessary tools. Among the means there is a gasoline generator for stand-alone operations and a light tower for operations in the dark. Off-highway vehicles were also exhibited at the review to work in off-road conditions, such as a terrain vehicle «Trekol». The use of modern vehicles allows to quickly deliver first responding and maintenance crews to power lines and other energy facilities, which in Central Russia are usually located in a remote wooded area. Restoration work is often complicated by severe weather conditions — lots of fresh snow, winds and high snow. Robust special vehicles is the key to the operational work of emergency crews. Aerials and a towing vehicle «Wolfhound» took part in the show, as well as a diesel generator to connect consumers to the autonomous power supply.
Deputy Director for Technical Issues — Chief Engineer of IDGC of Centre — Tverenergo division Alexey Galkin underlined: «Experience has shown that in case of emergency it requires competent operational co-operation of all structures at their elimination. For power engineers it is important to have understanding and concerted joint action with units of EMERCOM at technological violations at power facilities and organization of a set of preventive and protective measures to reduce the potential loss and damage in the event of such emergencies. Only under these conditions, restoration work will be completed in the shortest possible time.»