09.07.2013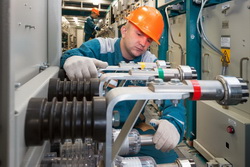 IDGC of Centre — Orelenergo division in the first half of 2013 spent to perform over 34 million rubles on the repair program implementation, representing 100% of the work schedule. For comparison, the company's investment for the same period in 2012 amounted to 23.3 million rubles.
The funds were used for the repair of 34 substations of 35-110 kV, more than 250 km of power lines of 0.4-110 kV, 46 transformers of 6-10/0.4 kV, and 35 transformer substations of 6-10/0.4 kV.
Among the major facilities, which were repaired, are the substation 35/10 kV «Streletskaya» and 110/10 kV «Warrior-1». The work performed will allow to improve the power supply of Mtsensk and Orel districts in the Orel region. The costs amounted to 3.4 million rubles.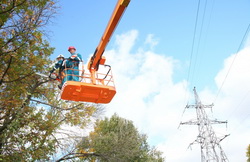 In addition, in the first half of the year Orel power engineers of IDGC of Centre fully implemented the plan for clearing ROWs along 0.4-110 kV power lines, having cleared almost 24 hectares off trees and shrubs. The ROW expansion plan was implemented by 126%, the amount of work was 71.5 hectares.