09.07.2013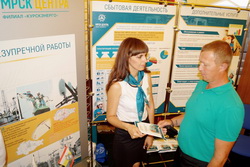 High estimate of the organizers is confirmed by the diploma of the prize winner, which Governor of the Kursk region Alexander Mikhailov handed over to Director of IDGC of Centre — Kurskenergo division Alexander Pilyugin.
The Kursk branch of IDGC of Centre at the exhibition was presented with two exhibition grounds. The main presentation booth, updated especially for the exhibition this year, introduced new technology and advanced equipment used in the distribution grid complex of the company.
In the framework of the fair a field Customer Service Centre was organized, equipped with everything necessary for work with visitors. Since Kurskenergo was first presented at the Korensk Fair in its status of an electricity supplier of last resort in the Kursk region, at the field Customer Service Centre one could also get consultations about all matters of retail activity. The CSC's visitors were informed in detail about the process of grid connection, a wide range of services provided by Kurskenergo, including the installation or replacement of meters. There were several written requests of consumers registered.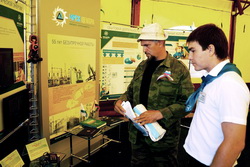 «The Kursk Korensk Fair is for us a very responsible event. On one side Kurskenergo acts as an exhibitor, so we try to present our work as accessible and clear as possible. On the other hand, we provide the power supply of the fair in general, including the activities of the II Central Russian Economic Forum. During three days our networks, particularly in Zolotukhinsky district, were experienced a huge load. Reliable power supply of the Forum and the entire Kursk Korensk Fair is the best presentation of our quality work,» stressed Deputy General Director of IDGC of Centre — Kurskenergo division director Alexander Pilyugin.
For information: XIII Interregional Universal Wholesale and Retail Kursk Korensk Fair is traditionally held in the town of Freedom in Zolotukhinsky district of the Kursk region from 04 to 07 July. This year, there were 1,500 participants from Russia, Belarus, Moldova, Ukraine's regions, the Autonomous Republic of Crimea, Serbia, Abkhazia, Kazakhstan, Poland, Bulgaria, China, France, Italy, Spain, Montenegro, Serbia and Vietnam. The business part of the fair in 2013 was focusing on the II Central Russian Economic Forum dedicated to the expansion of the domestic market of the regions.