08.07.2013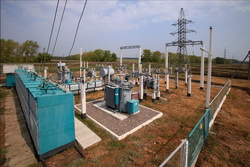 IDGC of Centre — Tambovenergo division completed work on the grid connection of the construction site of a complex for storage and processing of potatoes, which is located in the village of Novaya Sloboda in Sosnovsky district of the Tambov region. Power of the connected agricultural facility is 0.5 MW.
According to the plan of investment projects in agriculture of the region, the complex will be built by the end of 2014. The rated capacity of the complex is 12 thousand tonnes of potatoes a year. The volume of investments of the regional administration will be 266 million, 200 million of which is planned to be used this year.
All technical arrangements for grid connection of the facility were performed within the investment program of Tambovenergo. Tambov power engineers in the course of work performed the installation of a package transformer substation 10/0.4 kV 630 kVA, and also constructed a 10 kV overhead line with a length of 5.42 km from the 35 kV Substation «Degtyanskaya». Tambovenergo's costs of the work amounted to more than 8 million rubles.
«IDGC of Centre — Tambovenergo division creates all possibilities for the development of agriculture in the region, providing electricity to new facilities of the agricultural sector. This has a direct impact on increasing the investment attractiveness of the region and its development. Tambov power engineers are ready to further support the promising investment projects, implementing grid connection of new sites to the grid of the branch and ensuring reliable electricity supply to consumers,» stressed Deputy Director for Capital Construction of IDGC of Centre — Tambovenergo division Konstantin Svirin.