01.07.2013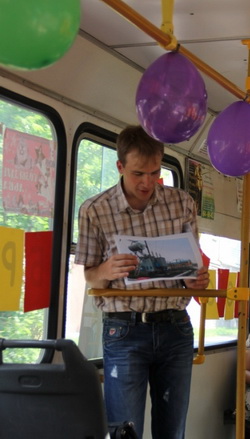 Young employees of IDGC of Centre — Bryanskenergo division celebrated the Youth Day, having organized a real holiday in a ... trolleybus.
The first «energy» trolleybus made its first trip around the city. The festive trolleybus went along a special route, stopping at hallmarks for each power engineer and resident of Bryansk — the Alley of Power Engineers, the Square of Partizans, the Embankment, and the Mound of Immortality. As a tradition, the young people placed flowers to the Bryansk stele «Bryansk — City of Military Glory», located at the Mound of Immortality.
In the trolleybus the young people were divided into two teams, each of which was to come up with the original name and motto. The young professionals gladly took part in fun themed contests, read poems, sang songs, and portrayed miniatures. One of the most exciting competitions, by all accounts, was a business game. Its participants had to compete in professional terms, recognize a substation and its equipment from photographs, indicate its location. The winners on that festive day were not chosen, all the participants were awarded with gifts and sweet prizes.
The atmosphere in the trolleybus was most friendly, all were charged not only with positive emotions, but pleasant impressions. «I am confident that the experiment was a success. The bright and noisy trolley full of positive energy, drew the attention of passers-by. Smiles and high spirits were transferred to all the people along the way,» stresses Igor Smirnov, a specialist of integrated management systems of IDGC of Centre — Bryanskenergo division.
«In general, for young people this holiday is an occasion not only to make good time, but with great benefit. This is the time when it is worth thinking again about how you can more fully realize your own potential in work,» shares his impressions Yuliya Rybakova, a specialist of department for public relations of IDGC of Centre — Bryanskenergo division.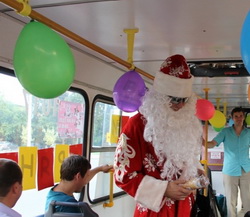 According to Chairman of the Youth Council of IDGC of Centre — Bryanskenergo division Maxim Dankin, the branch employs many young professionals, so much attention is paid to the implementation of its social and cultural policy aimed at maintaining team unity, creating optimal conditions for the preservation and development of cultural traditions that promotes team spirit. The Youth Day 2013 has once again proved that in Bryanskenergo the youth demonstrates professionalism not only at their workplaces, but also actively shows their creative part.