24.06.2013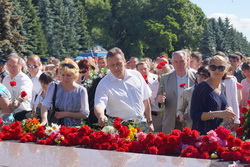 Staff of IDGC of Centre — Kurskenergo division took part in a city-wide ceremony marking the 72nd anniversary of the Great Patriotic War.
June 22, the Day of Memory and Grief, staff of Kurskenergo, representatives of the Council of Veterans and Youth Council came to the Memorial to the fallen in the Great Patriotic War. Together with hundreds of residents of Kursk the power engineers had a minute's silence in memory of those fallen in battles, tortured to death in Nazi prisons and who died in the rear of hunger and deprivation, and laid flowers at the eternal flame.
The war came to the Kursk region in 1941, when on the 2nd of November German troops invaded Kursk. According to records, during 15 months of occupation the Nazis shot about 5 thousand residents of Kursk, 12 thousand were captured, as many as that died of starvation and diseases. But the strength of spirit and faith in victory of the residents of Kursk were not broken. The city, almost totally destroyed, after its liberation in February 1943 in the shortest possible time was revived as a centre of the Kursk bulge battle. With the efforts of power engineers the capacity of power facilities in Kursk was restored, through which its railway junction, enterprises and numerous hospitals worked.
The modern city of Kursk proudly bears the title «City of Military Glory», which became a worthy reward for heroism and fortitude shown by the residents of Kursk during the Great Patriotic War.
«Participation in the meeting of Memory and Grief for the staff and veterans of Kurskenergo is of utmost importance. We are immensely grateful to the soldiers who fell in battles and those who by their labour during the war kept the performance of vital installations, who restored the ruins and rebuilt the country after the war,» stressed Deputy General Director of IDGC of Centre — Kurskenergo division director Alexander Pilyugin. «By participating in the ceremonial meeting we once again have paid tribute to the memory of those who will always be for us an example of heroism!»