20.06.2013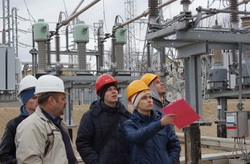 IDGC of Centre — Lipetsenergo division took part in the «Human Resources Forum — 2013». This event is held annually on the site of the Lipetsk State Technical University to assist students in future employment. This year, its participants were 13 major industrial enterprises of the region.
During the forum staff of Lipetskenergo told the students about the company, highlighting not only its production but also social aspects.
From the presentation of Lipetskenergo the students learned that, along with the implementation of the priority tasks to improve the reliability of power supply and grid development, the most important activity of the distribution grid company is to realize a balanced and competent personnel policy. In order to create a highly professional and well-consolidated team the branch carries out a range of activities, including, in particular, the involvement and continued support of young professionals.
In closing the forum graduates of specialized disciplines were proposed existing vacancies in Lipetskenergo. This information caused a positive response — just a few of the future specialists gave their resumes to representatives of the Lipetsk branch of IDGC of Centre.
According to the Head of HR of Lipetskenergo Ekaterina Mushnikova the held «HR Forum» once again demonstrated the effectiveness of this form of interaction between universities and employers in HR matters.