11.06.2013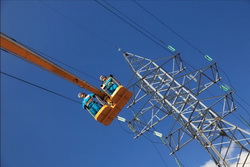 IDGC of Centre — Voronezhenergo division is increasing the pace of its maintenance campaign in 2013. Each year, mass preventive maintenance work is performed from April to October and completed with the beginning of the autumn-winter period.
This year, in preparation for the autumn-winter peak loads of 2013-2014, Voronezh power engineers have to perform complex repair of 8 substations of 35-110 kV, to repair 10 power transformers of 35-110 kV, more than 400 transformer substations, over 1,000 km of overhead lines of 0.4-10 kV and 573 km of overhead lines of 35-110 kV. The power engineers also plan to repair supervisory control and relay protection and automation equipment, buildings and structures, as well as vehicles. Particular attention will be paid to work on clearing ROWs along power lines from trees and shrubs.
According to Deputy Director for Technical Issues — Chief Engineer of IDGC of Centre — Voronezhenergo division Sergey Demidov the season of mass renovations at the branch was preceded by serious preparation. «Back in March, in all subdivisions of Voronezhenergo a month long preparation for the mass maintenance work was made. Within the month the staff of the branch held meetings on the prevention of accidents at work, simulation exercises were carried out close to real. Particular attention was paid to working out safety measures when working on clearing ROWs along overhead lines from shrubs and trees,» stressed Sergey Demidov.
During a target test of the branch by the central commission, the readiness of crews of the branch was confirmed to perform mass repairs and a certificate of readiness was issued.
To date, the repair program of the branch has already been executed according to the plan of five months — the ROWs along 0.4-0-110 kV conductors have been cleared in the amount of 683.91 hectares, and the ROWs along 6-110 kV conductors have been widened in the amount of 163.88 hectares.