10.06.2013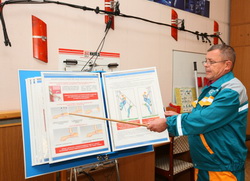 Already in the first quarter of 2013 for training, retraining and advanced training of personnel IDGC of Centre — Orelenergo division allocated nearly 930 thousand rubles. 425 people had their training — about a quarter of the total number of employees of the branch. Among those who raised the qualification there are 268 workers, 124 representatives of senior management and 33 specialist of the company. The list of specialties includes the profession of electricians to repair and install cable lines, tree fellers, slingers, specialists responsible for the safe operation of cranes, lifts, etc.
Other 19 employees are currently receiving vocational and higher specialized education.
Partners of Orel power engineers are an educational institution «Orel Training Centre», a training centre «Agrostroy», and specialized advanced training institutions. Orelenergo has also signed cooperation agreements with the State University — the training, research and production centre and Orel State Agrarian University, which train workers in field specific specialties of the branch. Under the agreements Orelenergo has the opportunity to attract students to practice. In addition, experts of the company were invited by the university to lecture on the core subjects.
Orelenergo also pays much attention to training staff on occupational health and safety. In this area for 4 months of the year 69 employees have had their training.