07.06.2013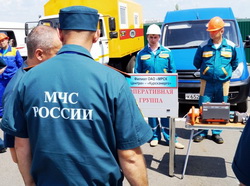 In Kursk, a two-day training-methodical gathering of Chiefs of General Directorates of EMERCOM in the Central Region of Russia was held, in which Kursk power engineers of IDGC of Centre took an active part.
The gathering was carried out in order to share experiences and develop common approaches in addressing the security of the population and territories.
Experts of Kurskenergo provided participants with a mobile electrical laboratory for testing 35-110 kV equipment and power electric cables. With the help of this mobile diagnostic system the time to locate faults in sections of power lines is significantly reduced. The operation of the compact thermal measurement system «MoblR M4», which monitors the status of power facilities, an ultrasonic thickness gauge and a ground resistance measuring device were also demonstrated.
In Zolotukhinsky district where the guests got acquainted with the system of crisis management of the municipality, a review of operational services of the district took place, including emergency and repair crews of Kurskenergo.
The leader of the gathering, the head of the Central Regional Centre of EMERCOM of Russia, Lieutenant General Alexander Katz noted the excellent provision of the units of IDGC of Centre with modern specialized machinery and equipment. The head of the Zolotukhinsky district administration Victor Kozhuhov marked effective communication of Kursk power engineers with the administration in troubleshooting process failures.