06.06.2013
In the management of IDGC of Centre — Kostromaenergo division there are new assignments. Sergey Mamonov was appointed Chief of October Distribution Zone of IDGC of Centre — Kostromaenergo division, who previously held the position of Deputy Chief of the Distribution Zone for sale of services. In his 33 years old he took the management of the most remote Distribution Zone in the Kostroma region. And Sergey Pashkov became Chief of Buyskiy Distribution Zone. He is 33 years old, eleven of which he dedicated to his native Distribution Zone, having started as an electrician and being promoted to the head of one of the major Distribution Zones. Appointed with him as Chief Engineer of Buyskiy Distribution Zone Sergey Medvedev is 28 years old.
The new appointments of young managers is the first experience of Kostromaenergo, which was made possible by the systematic work of the branch to attract highly qualified young professionals. This is also contributed by the long-term cooperation agreement with the Kostroma Power Engineering College after F. V. Chizhov, which was signed in 2008.
As part of this agreement students practice directly at Distribution Zones and at power facilities. Many employees of Kostromaenergo are involved in teaching at the college (40% of teachers of further education department are employees of Kostromaenergo). On the site of the «Chizhov's» College training courses for young professionals of the branch are regularly conducted.
All of these activities as a set can already in the first years «notice» talented students, recommend them in the future to work at Kostromaenergo, to include in the talent pool of the branch.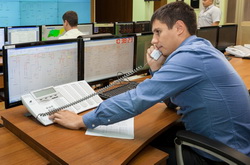 «IDGC of Centre — Kostromaenergo division is open to young people,» underlines the head of HR of IDGC of Centre — Kostromaenergo division Nadezhda Muravyeva. «These are more often creative and enterprising professionals who can not only offer a new idea, but also take the responsibility for its implementation. At the moment, a quarter of workers they are young professionals under 30. Sixteen per cent of those hold managerial positions. The youth involvement as managers is an important development strategy of Kostroma power engineers of IDGC of Centre.»