05.06.2013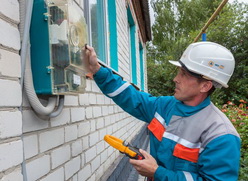 IDGC of Centre — Orelenergo division is implementing a program of modernization of metering in the retail electricity market, within which specialists install «smart» electric meters on the balance participation boundary with the consumers. As part of the program in 2013 Orel power engineers plan to install more than 3 thousand meters that meet modern standards.
These devices have high accuracy and advanced features for electricity metering. In particular, the devices allow to automate the collection and transmission of commercial data, provide an opportunity to perform hourly multi-tariff metering of electricity, control power consumption, etc. «Modernization of the commercial metering system will allow to better manage power consumption modes, control losses, ensure prompt calculations and payments for the consumed energy and capacity, optimize and predict energy consumption,» underlines the head of electricity metering Office of IDGC of Centre — Orelenergo division Yury Volchenkov.
The program implementation began in 2010. During this period the power engineers have installed around 12,000 meters with their removal to the balance participation boundary.
By 2017 Orelenergo plans to install other about 30,000 meters.