05.06.2013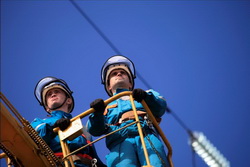 IDGC of Centre — Voronezhenrego division received a letter of thanks from the head of the Povorinsky district administration Vera Varlamova, in which the head of the district thanked power engineers for rapid and coordinated work to restore electricity in the town of Povorino and village of Rozhdestvenskoye.
Interruption of power supply, which occurred last week, was the result of violation of a protection zone of power lines by third parties. Following the well-coordinated work of emergency and repair crews of IDGC of Centre — Voronezhenrego division, who quickly got down to work, electricity supply of consumers was restored in the shortest possible time.
The head of Povorinsky district Vera Varlamova noted the high professionalism and good coordination of the team of Borisoglebsky section of power line Service and Povorinsky Distribution Zone while restoring power supply of socially relevant consumers.