03.06.2013
The jubilee customer was Lydia Ryabich, who visited the centre to apply for grid connection of the residential house in the village of Sorokopenino in Konakovsky district.
«I came to the CSC for help in resolving the issue of grid connection. Advice was provided by a specialist of the centre quickly and competently. The information was provided in a very accessible and understandable form, I got the answer to all my questions of interest. I sincerely thank the employees for professional help, courteous treatment, understanding and goodwill.»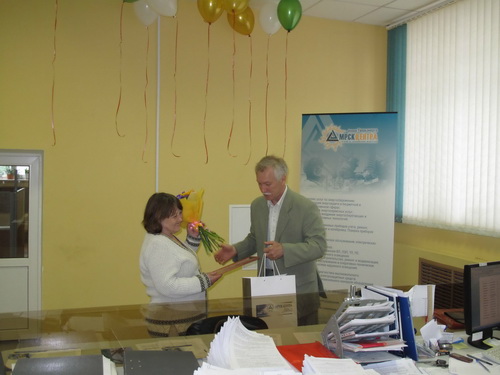 The honorary visitor was congratulated by the chief of the Tver CSC Oleg Stepanov, handing flowers and a gift.
The Konakovskiy Customer Service Centre receives customer for three years. In May, CSC's experts marked the solemn date and summarized their activities. Over the past period, employees of the Centre received more than 4,000 applications. Of these, 1,803 people requested for connection to the grids of the branch, more than 2,500 — with requests to conclude contracts for additional services.
«The consistently high quality of service and a wide range of services to the public cause a steady increase in the number of customers. Highly qualified staff, attentive and personal approach to each customer is required confirmation of the high standards of service in the company,» stressed the head of customer interactions Denis Morozov.