20.05.2013
IDGC of Centre — Kostromaenergo division director Alexander Glebov received a letter from Chief of the General Directorate of EMERCOM in the Kostroma region Denis Sychev. The letter expresses gratitude for the fruitful and creative collaboration in informing the population on the prediction and prevention of emergency situations, improving the safety culture of social life, as well as working together on child injury prevention.
IDGC of Centre — Kostromaenergo division pays great attention to the organization and conduct of joint activities in the training of personnel actions in emergency situations. For practicing skills to interact joint exercises and staff training are regularly held.
The enormous attention of Kostromaenergo and EMERCOM in the Kostroma region is paid to the prevention of child injuries and joint activities holding.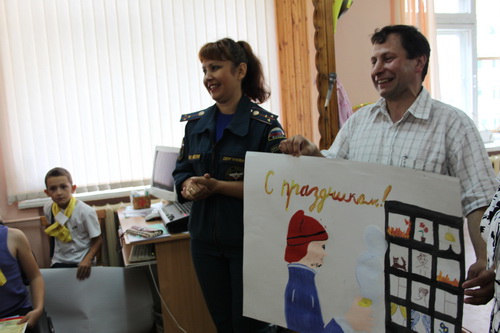 In 2012 and 1Q 2013 the power engineers and rescuers held transportation safety games with schoolchildren of junior classes, lessons on safety in 32 educational institutions (kindergartens, schools, institutions of social protection of the population).
«Every year the relationship between the information services of Kostromaenergo and EMERCOM becomes stronger. The common desire to protect children and adults from potential hazards associated with electrical current can effectively work in a team,» says the head of public relations of IDGC of Centre — Kostromaenergo division Tatiana Drozdova. «In the future the branch will continue to work in this direction, and will be looking for new forms and methods of preventing child injuries. The immediate plans are to involve other stakeholders of state and municipal authorities to conduct classes on electrical safety as well.»