16.05.2013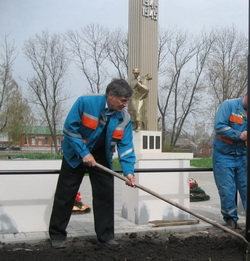 Deputy General Director of IDGC of Centre — Voronezhenergo division director Ivan Kleymenov received a letter of thanks on behalf of the head of the Council of Left Bank district Svetlana Kazartseva. Gratitude and appreciation was expressed to the manager of Voronezhenergo for the active participation of power engineers in the month's campaign to beatify and assist in bringing order and cleanliness in the city.
«Thanks to your responsibility, integrity, responsiveness to urban issues, Left Bank district became clean and well-maintained! We hope that our cooperation will continue to grow and develop for the benefit of our native city,» noted the letter.
Participation of the Voronezh power engineers in the annual month-long beautification of the city has become a traditional event. This year, the voluntary Saturday work, which took place in late April, was attended by more than 100 employees from the executive office of Voronezhenrego. The employees took part in the citywide voluntary Saturday work, cleaning up the shoreline of the Voronezh Reservoir and in the premises of power facilities of the branch and the surrounding areas as well.