15.05.2013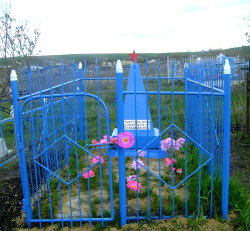 On the eve of the 68th anniversary of the Victory in the Great Patriotic War power engineers of IDGC of Centre — Kurskenergo division together with specialists of department «Kurskenergosbyt» continued the tradition and came out on Saturday for landscaping of places of burial of the war heroes. With the combined forces of the team of the power engineers 28 obelisks were cleaned up: one in each district of the Kursk region.
Currently, the region has more than 600 monuments and burial sites. Some of them are in a state of neglect. So, several years ago power engineers got down to work on the improvement.
In Medvensky district the staff of Kurskenergo performed cleaning and repairing a monument to the legendary pilot, three times Hero of the Soviet Union Ivan Kozhedub. The monument was erected on the site of a military airfield of the 240th regiment of destroyers. In Solntsevsky district of the Kursk region a monument to «Unknown Hero» was restored. The power engineers also tidied up the grave of «the Soviet soldier G. T. Nazarov, who died in 1942». In Manturovsky district they cleaned up a monument to soldiers killed during the liberation of the village of Rep-Plata.
«It is our duty to preserve the memory of the war heroes and their heroic deeds. And caring for the places where they rest is what we owe to do for those who gave their lives for the sake of the Great Victory,» stressed Deputy General Director of IDGC of Centre — Kurskenergo division director Alexander Pilyugin. «With pleasure we took up the work to take care of the monuments.»