08.05.2013
IDGC of Centre — Belgorodenrego division had fire training. Its important element was an organizational test of personnel actions, the state of fire-fighting and fire detection means.
According to the legend, a fire occurred in one of the premises of the office building, as a result of which before identification of the scale of the incident and its complete elimination all employees and a part of material valuables were evacuated from the premises in an orderly manner. After 7 minutes to extinguish the fire the 1st FFS squad arrived led by Acting Chief of FS-1 senior lieutenant of internal service Alexander Korovin. Firefighters found that due to heavy smoke and proximity of the island of fire not all employees could leave jobs. In seconds, they launched a fire escape and people were evacuated from the 3rd floor of the building, and then completely eliminated the fire.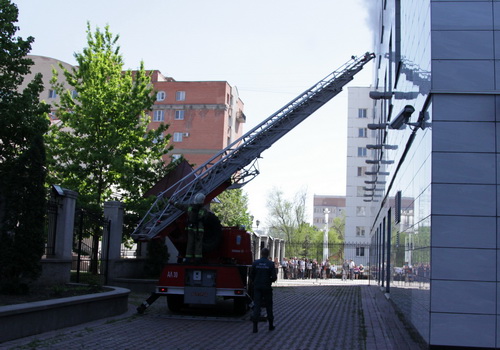 In total, out of the building for 5 minutes without panic and stampede 429 people were evacuated and vehicles, which were in the garage. The actual time of the evacuation this time was reduced by 4 minutes, that, according to the head of the department for mobilization and civil defense Viktor Demchenko, is the result of a regular system of holding such events.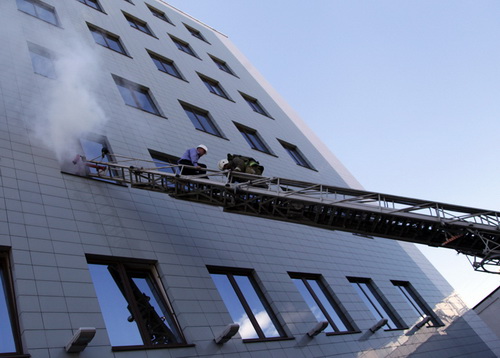 The training was conducted in cooperation with Call Centre-112 of Belgorod city district and fire department # 1. The participants worked out practical actions of all duty services of Belgorodenergo and fire brigades of the Russian Ministry of Emergency Situations of the Belgorod region on fire-fighting and evacuation of personnel from the burning building.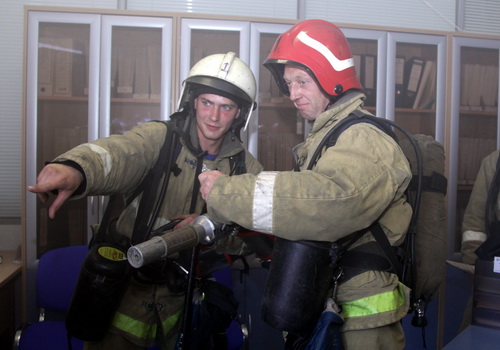 Viktor Demchenko stressed that any incident, be it a fire, terrorist attack or accident, are often accompanied by a power outage. Many people in the dark have no common sense but instinct for self-preservation. Some panic and stampede in escape routes occurs, which can lead to loss of time and even mutual injury. Therefore, everyone should know the procedures for fire, and, above all, timely inform the service «01», as well as the management and duty services.