29.04.2013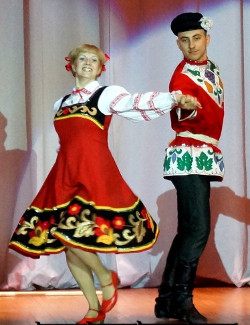 IDGC of Centre — Kurskenergo division held the XIII review of amateur performances named after N. T. Vishnyakova. It was attended by over a hundred of power engineers — employees of 30 Distribution Zones and the Executive Office of the branch.
For the first time the contest was attended by specialists of the department «Kurskenergosbyt». For six hours applauses in the auditorium of the branch did not stop. The audience enthusiastically greeted their talented colleagues — the power engineers, who staged vivid choreography, vocal, declamatory and burlesque performances.
Outside of the contest program the chorus of veterans of IDGC of Centre — Kurskenergo division performed. The jury noted the pensioners in the nomination — «For being true to the tradition».
The prize winners of the first degree the jury unanimously named the technician to work with entities of subdivision «Kurskenergosbyt» Inna Petrova with her folk song «Bird Cherry», the specialist of administration department Oksana Soshnikova and engineer of electric modes Oleg Sukhochev, who played the fiery «Quadrille», the specialist of property management and consolidation of electric grid assets Dina Pochernyaeva and specialist of investment management Maxim Volontsevich, who danced the bewitching «Tango», as well as the specialist of materials accounting Irina Pochechun, who immaculately performed the complex work of «Passkaliya» by Johann Bach.
In the nomination «Original genre» the first place was awarded to an extraordinary performance with a sword of the economist of tariff department Evgeny Efremov. In the recitation Lyudmila Efremova was recognized the best. Her expressive reading of the poem of Gorald Registan «Mother's Heart» left nobody indifferent.
With the special «Grand Prix» diploma the jury noted the performance of the choreographic team of the executive office of Kurskenergo «Elegy». The largest category «Pop Vocal» caused a lot of controversy among the judges. President of the jury, the artistic director of the House of Culture of Railway Oksana Denisova explained what the reason was: «What we have heard — a professional level! Clean and beautiful voices! I repeatedly visited amateur contests of various enterprises, but I was impressed by the power engineers, who presented simply a star concert.»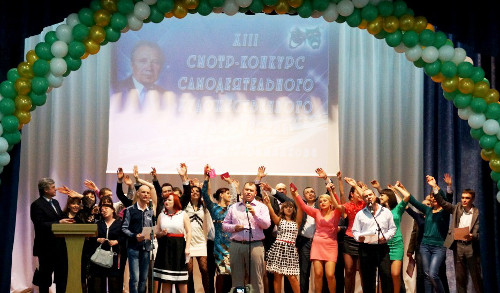 As a result, the jury awarded the first prize to two participants — the chief of the southern section of power lines service Vladimir Sogachev and the electrical fitter for equipment repair Dmitry Pobelenko. In the category «Debut of the Year» this time the best was the engineer of production and logistics department of «Kurskenergosbyt» Dmitry Volobuev and technician of marketing and customer relationship Anastasia Emelyanova.
Presenting the awards to participants of the XIII review of amateur performances named after N. T. Vishnyakova, Deputy General Director of IDGC of Centre — Kurskenergo division director Alexander Pilyugin stressed: «Once again, the power engineers have taken their time and ability to catch a break from work and arrange for themselves and the invited audience a wonderful holiday. It's nice that the employees of department "Kurskenergosbyt" added lots of bright colours to this real talent show!»