26.04.2013
Rise in water level continues in most of the rivers of the Kostroma region, in some of them the water is adding 91 cm per day. For example, in the Kostroma River the water level has reached 524 cm at the critical — 740 cm. All Kostromaenergo's energy facilities that are in the flood zone are operating normally and provide secure and stable power supply to consumers.
In preparation for the passage of the 2013 spring flood the power engineers completed a range of activities to ensure reliable, trouble-free operation of the equipment, buildings and structures of power grid facilities of Kostromaenergo in the region.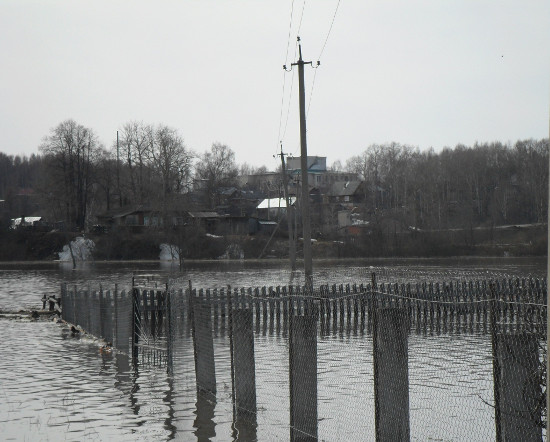 Priority was given to verify the status of power facilities in the zone of possible flooding. Special vehicles, machinery and equipment, including swimming facilities, pumps and motor pumps were also set under special control. For rapid response to the flood situation the branch has 100 crews in a constant state of readiness, created an emergency supply, which includes parts of poles, building materials, and special clothing.
In Distribution Zones that can get in the zone of active floods there are 15 boats in total. In the event of possible technological failures the branch prepared 57 diesel generator sets and developed backup power supply circuits for consumers, which will ensure continuity of power supply of social facilities.
Performance of drainage networks, devices for the passage of flood waters and pumping devices is being checked. Inspection of the overhead crossings over navigable and floatable rivers was also performed, and warning signs were checked and renovated. Together with the management of the Kostroma river port safe navigation at the crossing of overhead power lines on shipping routes in the flood period was ensured.
The power engineers of the branch established cooperation with local executive authorities, district flood commissions, Hydrometeorological Service and Ministry of Emergency Situations of Russia in the Kostroma region. Lists of power facilities, buildings and structures were made, the threat of flooding or flooding of which occurred in recent years. These facilities are being inspected — and places of crossing overhead lines across the river as well.
For first responding, operational and maintenance and repair personnel instructions and training emergency response drills are held. The order of interaction of subdivisions of Kostromaenergo has been determined in case of a threat or occurrence of emergency situations.
At the end of the flood period it is planned to examine all sections of power lines exposed to the flood to determine the possible damage and define the need for repair work.