23.04.2013
Chief of Riylsky Distribution Zone of IDGC of Centre — Kurskenergo division Sergey Besedin has been recognized the winner of the regional round of the Russian contest «Best Manager of the structural unit — 2012» in the category «Energy». The award was handed to Sergey by Governor of the Kursk region Alexander Mikhailov.
Sergey has been working at Kurskenergo since 1998. In just four years, thanks to the professional quality, technical expertise and leadership he was able to grow as an engineer to the chief of the Distribution Zone.
Under Sergey Besedin's direction Riylsky Distribution Zone has become one of the best in Kurskenergo. Over the past five years in Rylsky district of the Kursk region, 63 km of overhead lines of 10 — 0.4 kV were constructed and reconstructed, 16 transformer substations were commissioned, which provided stable and reliable power supply of socially significant facilities and agricultural facilities.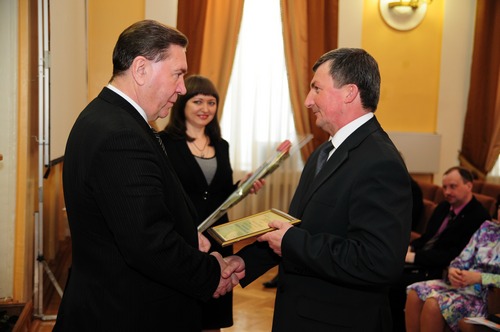 In 2012 a comprehensive overhaul of the 110 kV «Riylsk» was completed, providing electricity to residents and businesses not only of Riylsky, but Glushkovsky and Korenevsky districts of the region. The team of the Distribution Zone also achieved much under the direction of Sergey Besedin in the work to reduce energy losses. In 2012, the rate of loss of electricity, compared with 2011, decreased by 1.7 million kWh.
Chief of the Distribution Zone initiated the creation of a «Group of public safety representatives» from among the active members of the workforce, which resulted in a successful building of the system of social control and minimization of the incidence of occupational injuries in the Distribution Zone.
«Sergey is one of the leaders who can be trusted with any important business and be sure that everything will be done efficiently and on time. Just with the efforts of such responsible, initiative, working with dedication and really suffering for the cause professionals the power system operates in every remote corner of the region,» stressed Deputy General Director of IDGC of Centre — Kurskenergo division director Alexander Pilyugin.