22.04.2013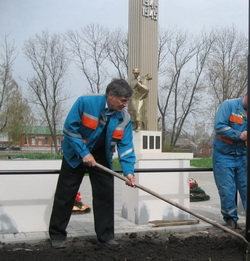 April 19-20, staff of IDGC of Centre — Voronezhenergo division took part in the annual month-long traditional regional beautification event.
The action plan and its implementation schedule were developed in advance. Traditionally, the power engineers were cleaning the premises of the branch's power facilities, as well as surrounding areas. Waste removal around the substations became a necessary event in order to ensure fire safety of the city and the region.
In addition, the specialists of the Voronezh branch of IDGC of Centre took part in citywide voluntary Saturday work having cleaned the shoreline of the Voronezh Reservoir.
These events are only the first stage of the preparation of the power engineers for the spring. In late April the power engineers will also take an active part in the planting of trees in the Tannery Cordon affected by the fires of the summer of 2010.