19.04.2013
IDGC of Centre — Yarenergo division was awarded the prize «Business Elite of Yaroslavia-2012» in the nomination «For the provision of quality services in the field of energy». The power engineers received appreciation of their labour based on a survey conducted by the publishing house «Upper Volga» with the support of the Government of the Yaroslavl region.
The annual award «Business Elite of Yaroslavia-2012» is the result of joint work of representatives of the journalistic community and authorities. The winners are the most efficient, socially responsible and dynamically developing companies.
Winning the prestigious competition was made possible thanks to the work being done by Yarenergo to provide reliable and quality power supply in the Yaroslavl region. The investment program, which was implemented by the branch last year, amounted to 1.4 billion rubles. These funds were used for construction of new facilities, clearing and expansion of ROWs along power lines, reconstruction of substations and networks of different voltage levels, as well as modernization and purchase of new equipment. The modernization of the grid complex has also continued this year. The current major investment projects of Yarenergo are the construction of the substations «Novoselki» and «PSU TPP».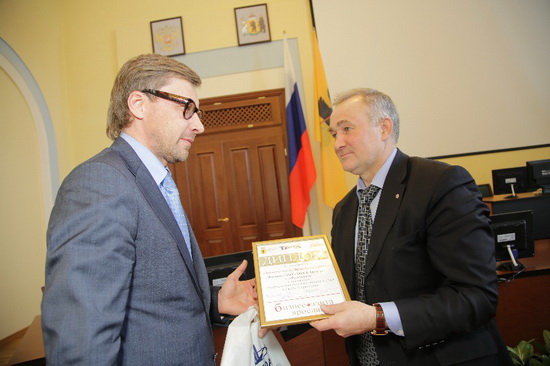 The last year for the Yaroslavl power engineers was the best in the field of grid connection. In 2012, IDGC of Centre — Yarenergo division performed 4.5 thousand contracts for connection to the grid. Under the program «Restoration and development of outdoor lighting» the work was done in the amount of 24 million rubles. Energy-efficient technologies were actively being implemented. Much was made for the successful completion of the winter peak loads in the grid. Organizational measures allowed to reduce the time to eliminate process failures, and the implementation of the investment and maintenance programs — to improve the reliability of power supply.
«I am grateful for your appreciation of our work. Provision of uninterrupted quality power supply to consumers and increase of the investment attractiveness of the region by modernizing production has always been priority areas of Yarenergo. We will continue to maintain a high standard of achievements and move forward for the benefit of residents of the region,» stressed at the ceremony Deputy General Director of IDGC of Centre — Yarenergo division director Igor Solonikov.