19.04.2013
Specialists of IDGC of Centre — Belgorodenrego division installed more than 12,500 and replaced 23,000 lighting fixtures and 20,000 lamps in 2012 to improve the quality of street lighting in settlements of the Belgorod region. In total for three years, from 2010 to 2012, the power engineers instead of the outdated fixtures installed more than 45,000 modern energy efficient ones and completed the replacement of more than 46,000 lamps.
In accordance with Federal Law № 261 «On energy saving and energy efficiency ...» the replacement of obsolete bulbs for energy efficient ones is given special attention. All the implemented technologies undergo mandatory examination for compliance with lighting and operation features according to the regional program on energy conservation and the requirements of the federal law.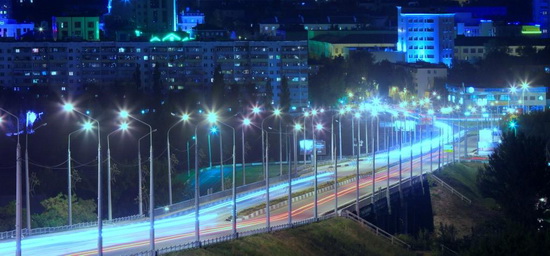 This year it is planned to replace other over 23,300 energy-efficient lighting fixtures, the region will have about 3 million new lighting points. As part of the reconstruction and new construction of 0.4 kV networks in communities and individual housing construction neighborhoods there will be 5,000 new lighting fixtures and about 360 kilometers of self-supporting insulated wire installed.
Along with the grid infrastructure it is planned to reconstruct the lighting in Valuysky, Prokhorovsky and Shebekinsky districts.
In Belgorod the reconstruction will affect the key city streets: Dachnaya, Lugovaya, Chapayev, Chernikov, Razin, Pushkin, Victory, Ozemblovsky, Polevaya, Kotovsky, Korochanskaya, Friendship, Semashko, Izmailovo, alleys of Chapayev, Slobozhanskiy, Decembrists and Highway. To date, in the region Belgorodenergo serves more than 155 thousand lighting fixtures, of which over 70% are modern energy efficient ones.
Management of outdoor lighting is remotely controlled by an automated system that switches it on and off in accordance with the schedule approved by resolution # 43-pp of the Government of the region «On Amending Resolution of the Government of the Belgorod region dated February 14, 2011 # 54-pp» dated February 6, 2012.
The outdoor lighting system of the Belgorod region covers all the necessary parts of the road and highway network, as well as the most remote villages with few people living in them.