16.04.2013
Kostroma power engineers of IDGC of Centre together with the Office of the Russian Federal Security Service, Interior Department and Russian Ministry of Emergency Situations in the Kostroma region conducted a large-scale exercise to test the coordinated actions of the subjects of anti-terrorist activities. The exercise involved more than 90 people. For the first time such exercise was held at a production and repair facility of a distribution zone of Kostromaenergo.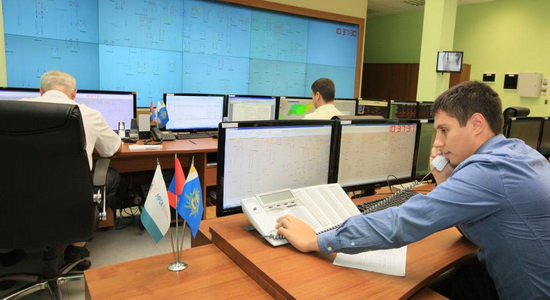 According to the scenario, the police control room was contacted by an operator of Sharinsky Distribution Zone of IDGC of Centre — Kostromaenergo division and reported the discovery in the administrative building of an object that looked like a bomb. During the call to the police, inspectors informed the operator of the seizure of hostages by a conditional terrorist from among the employees of the branch. «Terrorist» put forward some political demands, in case of failure to satisfy his requirements he threatened to commit sabotage and terrorist acts.
«Despite the fact that the experience of such training was the first the staff worked out a proper plan for the implementation of priority actions to curb the terrorist act. Evacuation of people passed quickly, without panic. All reports of the situation were made to the management in a clear and timely manner. All in all the staff actions of Sharinsky Distribution Zone received positive feedback from both the management of Kostromaenergo, and on the part of the law enforcement agencies,» speaks about the exercise Deputy Director for Security of the branch Alexander Korotin.
The anti-terrorist exercise was carried out in the framework of and pursuant to the «Rules of interagency cooperation of IDGC of Centre — Kostromaenergo division and law enforcement agencies of the Kostroma region to address the threats of criminal, sabotage and terrorist nature in respect of the fuel and energy complex». The main objectives of the Rules — the interaction to exchange information and conduct inspections at electric power facilities.
During 2013 several more trainings at different energy facilities of Kostromaenergo have been planned.