27.02.2013
IDGC of Centre — Voronezhenergo division for the fourth consecutive year has been participating in the Voronezh Industrial Forum, which opened February 27 in Voronezh.
The event was organized by the Government of the Voronezh region, Administration of Voronezh city district, Chamber of Commerce of the Voronezh region and Exhibition Centre VETA supported by the Chamber of Commerce of the Russian Federation, Association of Employers «Council of Industrialists and Entrepreneurs of the Voronezh region» and Voronezh CSTI – a branch of FBGU «Russian Energy Agency» of the Russian Ministry of Energy.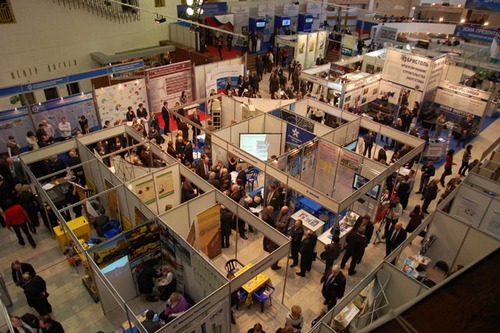 Within the forum Voronezhenergo is participating in the 11th inter-regional exhibition «Energy resource». Among the subjects of the exhibition — electrical and power equipment, energy-efficient and resource-saving technologies and equipment, energy management, energy audit, labour safety, scientific and educational institutions, professional associations, specialized publications and literature.
This year booths of the branch have samples of modern metering devices. Visitors of the exhibition also will be able to see additional services provided by Voronezhenergo to individuals and legal entities. Power engineers will talk about the installation and replacement of meters, maintenance and development of outdoor lighting networks, work under the responsibility of customers in the grid connection procedure, and answer questions about the timing and cost of the provision of additional services of the branch.