27.02.2013
According to the Decree of the President of the Russian Federation, Alexander Efremov, electrician to repair equipment of relay protection and automation of IDGC of Centre — Kurskenergo division was awarded the Medal of the Order of Merit for the Motherland II degree. The state award to Honorary Power Engineer Alexander Yefremov on the Defender of the Motherland Day was given by Governor of the Kursk region Alexander Mikhailov.
Mr. Efremov was honoured with the high award for his achievements in labour and many years of diligent work. For almost 40 years he has been working in the energy sector, of which soon 33 years long — at Kurskenergo.
The labour achievements and high reward Alexander Yefremov shares with his team of associates who know him since after his military service, when he came to Kurskenergo to work as an electrician to repair equipment of relay protection and automation.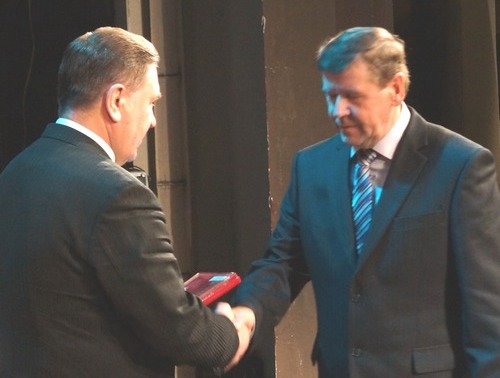 Alexander was active in a number of projects aimed at upgrading the distribution grid of the Kursk region. These include: the replacement of high-frequency protection transceivers of 110 kV conductors, automated oscilloscope devices, fault locators of high voltage power lines for modern digital devices; programming, commissioning of microprocessor modules of relay protection and remote control of reclosers in the distribution network of 10 kV. He participated in the implementation of the Development Program of operational and informational centre and means of control and technology management of the Grid Control Centre of IDGC of Centre — Kurskenergo division, under which at the substations 110/35/10 kV «Schetmash», 110/35/6 kV «Fiber» and 110/6 kV« Forest» 200 telemetry sensors were installed to enhance the reliability of 110 kV overhead lines control.
Professional skills of Mr. Efremov were especially true with a successful realization of the target program to install gas-insulated 110 kV circuit breakers, to replace oil circuit breakers with vacuum in the 6-10 kV distribution networks with the reconstruction of relay protection and automation equipment and equipping 10 kV switchgear and control gear with modern arc protection, which allowed to improve power supply reliability and reduce the cost of maintenance of electrical equipment.
Alexander Efremov has his honorary title of IDGC of Centre «Best in the profession». He was awarded a diploma of merit of the Ministry of Fuel and Energy of the Russian Federation.