27.02.2013
IDGC of Centre — Belgorodenergo division held a thematic workshop for 3rd year students of the Power Engineering Institute of BSTU after V.G. Shukhov, majoring in «Power supply». The theme of the seminar was the operational and technological management of the power grid of the region at present.
During the seminar, the students learned the structure of operational and technological management, tools and systems that are available to the operator. Future power engineers had interest to learn that almost all processes in the branch are automated and the grid is managed in real time from the Grid Control Centre, a detailed tour of which was conducted by experts of the operations and technology service. They said that the situation in districts, along with the Grid Control Centre, is controlled by 22 operation control centres, which receive data on the state of equipment and the current mode of the grid operation. The present level of automation can handle about 80,000 signals from controlled facilities.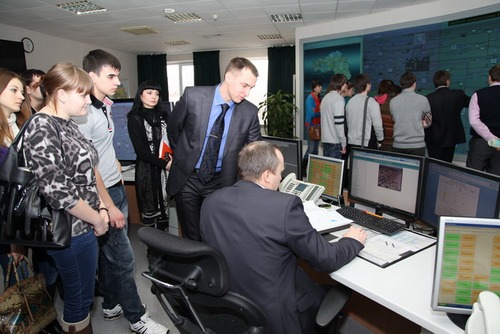 The students learned how an outage plan is made, how to calculate electric operation modes, what constitutes the loss of electricity and what activities can effectively deal with them. But most importantly, they got into the everyday life of the company and became acquainted with the peculiarities of their future profession.
The 3rd year student of the Power Engineering Institute Roman Shulyak said that many things became much clearer to him after he had looked at them with his own eyes. We at the university study the theory, and, unfortunately, almost no idea what the equipment and technology looks like, with which we will work in the future,« stressed Roman, "Now everything fell into place."
A similar view was expressed by Candidate of Engineering Science, Associate Professor of the chair "Utilities" of the Power Engineering Institute Igor Shcherbinin Energy Institute, who attended the workshop: "From the third year, students begin to study special subjects, and here they have a clear understanding of how the power industry works, not only in terms of physical processes, but also in reality."
As the next stage of bilateral cooperation the company will recommend students of the institution to present their vision to meet the challenges facing the power industry, and to speak with reports and term papers on these topics at the company. This will allow the branch to determine the potential future professionals and to raise a decent shift.