22.02.2013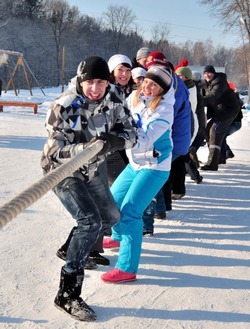 IDGC of Centre — Yarenergo division held a tourist meeting «Energy winter – 2013». The event was initiated and organized for the fourth consecutive year by the trade union of Yarenergo and was attended by over 100 people.
Promotion of active rest and a healthy lifestyle is an important area of the social policy. Outdoor sports have already become traditional and favorite pastime for Yaroslavl power engineers.
The winter tourist meeting of Yarenergo was held in a specially designed park for outdoor activity «Fun». Despite the freezing weather, a large number of participants came to the event, including those from remote Distribution Zones of the branch. Fun contests helped warm up, which are aimed to develop precision, response and team qualities. Dressed in hulking sumo wrestlers, the power engineers were trying to knock each other without losing their own balance. Another kind of the funny martial arts took place on a trampoline, which was also making significant changes in the «combat» skills of competitors. The participants did not forget to try their forces in the traditional tug-of-war. The organizers came up with contests in which everyone could express themselves fully. While the smartest were collecting unimaginable puzzles, the most accurate were shooting from a giant slingshot, and the speed record for downhill on an inflatable sled could be envied by the Olympic bobsleigh team.
After a competitive part of the sporting event the power engineers were riding quad bikes, air sledges for blizzards, strolling through the picturesque woodland in the park.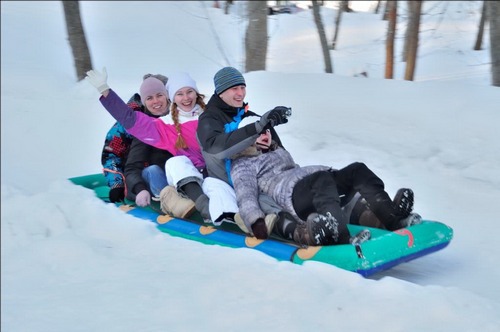 «The weather is not a hindrance for power engineers either at work or at leisure. Why sit at home when you can get out into nature and with health benefits hold off! In addition, at such events our staff always undergo the so-called "rope course" that teaches to work cohesively as a team, and help better perceive and understand each other properly. These skills will be useful to them in the future both in their personal life and at work,» stressed Chairman of the trade union of IDGC of Centre — Yarenergo division Anton Sukharev.