18.02.2013
In the great hall of the Administration of the Smolensk region Governor Alexey Ostrovsky gave more than 30 awards to Smolensk residents, distinguished for their labour services. Among the winners was also an employee of IDGC of Centre — Smolenskenergo division — electrician to repair and operation of distribution networks Vladimir Guzhelev.
Addressing to the awarded, Alexey Ostrovsky congratulated them on such meaningful assessment of their labour and wished them every success for the good of their Fatherland, native land of Smolensk: «Dear colleagues and friends! Today is an exciting event for you and for me. I am to give you high state awards on behalf of the leadership of the country, the President of the Russian Federation. This is for all of us — a great honour.»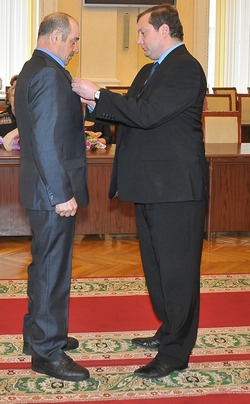 According to the Decree of the President of the Russian Federation Vladimir Putin on August 8, 2012 for his contribution to the development of the power industry, labour achievements and many years of diligent work Vladimir Guzhelev was given the state award — the honorary title «Honoured Power Engineer of the Russian Federation». This title is assigned to highly professional specialists of companies for achievements in energy development, creating, designing and developing new types of power equipment and installations, implementation of advanced technologies in construction, installation and operation of energy facilities, for achievements in scientific researches, energy conservation, production organization and personnel training.
Vladimir Guzhelev made a great contribution to the development of the distribution grid complex of the Smolensk region. Over 28 years, he has been working at Smolenskenergo as an electrician and for these years has achieved a high level of professionalism. He has been actively involved throughout his entire career in the electrification of Monastyrschinsky district of the Smolensk region.
Throughout all the time Vladimir with quality and in set terms eliminates faults in the distribution networks, restores normal operation of serviced equipment in substations of Monastyrschinsky district. He is an active innovator — the branch has already introduced his proposals for comprehensive repair of transformer substations at production bases of Distribution Zones with performance of laboratory measurements, with subsequent replacement of existing facilities, to change the power supply circuits to provide uninterrupted power to rural consumers. As a result the length of outages has reduced, undersupply of electricity has decreased, power losses have decreased, performance of complex repairs has become better, and the overall reliability of the electricity supply has improved.
Vladimir Guzhelev is a regular participant of competitions of excellence among crews regions of Distribution Zones, and a mentor of young electricians. Knowledge, experience, hard work, combined with being friendly, responsive, has attained an outstanding reputation and respect of the team, who speaks of him as a disciplined worker, whose responsible approach to the work has given stable reserve of reliability to the power grid of Monastyrschinsky district.
The award is the second in the collection of merits of Vladimir, before he was awarded the title «Honorary Power Engineer».