11.02.2013
Specialists of HR department of IDGC of Centre — Kurskenergo division met with the teachers of the Kursk Agricultural Academy. In the extended methodological meeting the parties discussed prospects of further cooperation.
Departments of power supply and electrical equipment, as well as computer science and electrical power engineering have been in the Kursk Agricultural Academy for two years. Teachers of these field-specific direction areas were invited to Kurskenergo to expand mutually beneficial cooperation.
On the one hand Kurskenergo is interested in improving training of specialists for the company. On the other, the educational institution has its interest to send students to pass industrial practice in the branch of the leading energy company in the region. Communication with teaching staff of the Agricultural Academy is also useful for the branch's employees performing their non-core training and retraining activities for the company's staff, for example, in safety.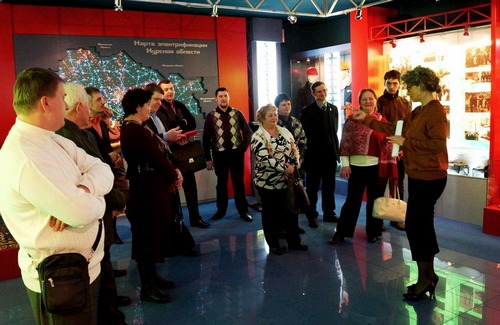 The reports, which were delivered by the experts of Kurskenergo at the meeting, aroused great interest among the faculty of the university. Exchanging experiences, teachers of the Agricultural Academy shared their practice and studied educational software used in Kurskenergo. Great interest of the visitors was aroused with studying the operating and information software of the Grid Control Centre (GCC), which was commissioned in 2012.
"Undoubtedly, the cooperation with such an organization as Kurskenergo is very useful for us," stressed Assistant Professor of power supply and electrical equipment Department of the Kursk Agricultural Academy Julia P. Gnezdilova, "Now in teaching electrical subjects we will focus on the equipment used in the power sector of the Kursk region." The plans of the parties are to hold another joint methodological meeting, this time at the site of the Agricultural Academy.