06.02.2013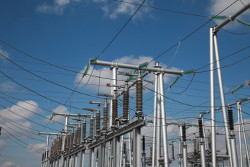 Such large supply centres as the substation 110/35/10 kV «East», located two kilometers from the village of Razumnoye and designed to supply industrial enterprises, the 110 kV substations «Irrigation» in Valuysky district, «Upper Pokrovka» in Krasnogvardeisky district, «Serebryanka» in Novooskolsky district; two 35 kV substations in Shebekinsky district — «Water Reservoir» and «Starikovo» and the substation «Velikomikhaylovka» in Novooskolsky district will have their complex reconstruction.
Equipment of switchgear 35-110 kV and 10 (6) kV will be completely replaced there, MPD panels and remote control and communication devices will be installed, the information from which remotely is transferred to the operator's control panel. In addition, the following systems will be renovated and upgraded: AMR, telemetry system, perimeter alarm system and video surveillance.
One of the key projects of the year will be the reconstruction of the 110/35/10 kV «East». It is planned to completely upgrade the equipment of the supply centre. The total capacity of the facility after replacing its power transformers will increase to 80 MVA.
Other 8 substations will undergo their partial reconstruction with replacement of the control current system and installation of low maintenance batteries.
At 10 substations it is planned to install microprocessor arc protection, which prevents development of emergency at power facilities, minimizing the damage from equipment failures.
Modernization of the feeding centres is realized as planned to improve the reliability of power supply of all categories of consumers. The branch has developed its multi-year power facilities renovation target program, taking into account the prospects of the regional electric grid and data of equipment diagnostics. The program provides for a gradual upgrade of substations and power lines, the elimination of the power deficit in the unavailable supply centres, and increasing transmission capacity of the grid.
«By increasing the reliability of the electric grid and quality of power supply to our consumers, we reduce power losses during transmission, improve the environmental situation and decrease maintenance costs, — underlined Deputy Director for Technical Issues — Chief Engineer of the branch Denis Yagodka. — All installed power equipment has high reliability, fire and explosion safe, and has a long life of operation.»