05.02.2013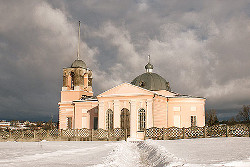 Power engineers of IDGC of Centre — Orelenergo division overhauled power facilities in the settlements of Dolbenkino and Kharlanovo in Dmitrovsky district.
In particular, transformer substations and power lines of 0.4 kV with a total length of 10.3 km were refurbished. The total cost of the repair was 1.2 million rubles.
The completed work enabled the growing load in the grid, created reserve capacity and technical capability to connect new customers. It is worth noting that the number of connections to the power grid in the settlements today has grown significantly due to the construction of new homes.
In addition, in the village of Dolbenkino there is a historical monument — the Convent of St. Xenia of Petersburg, which is visited by many tourists and pilgrims. It was laid in the former estate of Grand Duke Sergey Romanov and Grand Duchess Elizabeth Feodorovna. Given the popularity of the tourist route, the power engineers during the repair work tried to use design and materials, allowing to provide for the best possible quality and safe operation of electrical networks.