29.01.2013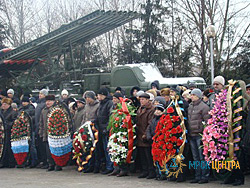 IDGC of Centre — Voronezhenergo division took part in the celebrations of the 70th anniversary of the liberation of Voronezh from Nazi invaders.
On the day of the anniversary, January 25, in the park of the Patriots staff of Voronezhenergo paid tribute to the residents of Voronezh who died for their country with a minute of silence and laid flowers and wreaths at the eternal flame. The laying ceremony was attended by the Administrative Board of Left Bank district, students of military schools, as well as representatives of the major enterprises of the district.
Within the celebration of the 70th anniversary of the liberation of Voronezh there was honouring of veterans, memorial meetings, free shows of the movie "The Brest Fortress", conferences, tours and concerts. On that day, in the temples of the city memorial services for the soldiers killed in the battle for Voronezh were held.
Voronezh residents also witnessed the military historical reconstruction, organized by military-patriotic clubs of different cities. Amongst the "hostilities", the guests were able to see the real vehicles of the war years, to try the front porridge of the 1942 recipe.
According to the head of HR of IDGC of Centre — Voronezhenergo division Evgeny Novikov, the feat of the soldiers who died for Voronezh, cannot be overstated. "Today's a holiday — it's a tribute, respect and admiration for our fellow countrymen. Thanks to their courage, we live our lives and our city develops. For us, this anniversary is especially dear — among employees of Voronezhenergo there are many veterans,"- underlined Evgeny Novikov.