25.01.2013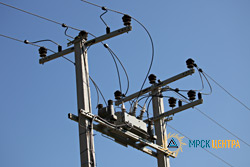 IDGC of Centre — Orelenergo division is implementing a program that allows to make schools and other childcare facilities safer. Power facilities, located near such social premises, are being reconstructed with modern materials.
For example, employees of Krasnozorensky Distribution Zone of Orelenergo renovated a school grounds transformer substation and its outgoing lines in the village of Great Chernava in the Orel region. During the overhaul, they used 1.2 km of self-supporting insulated wire SIW 4. They also replaced 40 wooden poles with reinforced concrete and 39 leads-in into houses.
— This work provided more reliable and uninterrupted power supply to consumers and safety of electrical installations as well, which is especially important in view of their proximity to the school — stressed the head of Krasnozorensky Distribution Zone of Orelenergo Yury Zanin.