23.01.2013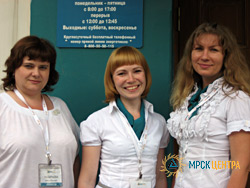 IDGC of Centre — Voronezhenergo division summed up the work with customers. Last year Voronezhenergo received 51,604 requests of consumers on issues related to power supply.
Of these, over 20,000 people applied to the branch with the request for additional services, of which the most popular was the installation and maintenance of metering devices. There were more than 19 thousand such applications received by Voronezhenergo. In addition, the service to connect electrical installations of customers to networks of the branch was in demand as previously.
According to Head of the Customer Service Centre (CSC) of Voronezhenergo Elena Nemirovich-Danchenko, the branch's staff tries to give the most comprehensive information to customers who come to the branch. "The CSC's experts find an individual approach to every customer. We are ready to clarify any questions about electricity supply," — she stressed.
For the convenience of customers IDGC of Centre operates the around the clock Direct Power Hot Line at 8-800-50-50-115 (toll free), by calling which consumers can get advice on all matters of power supply and value added services provision.
Annually experts of Voronezhenergo conduct activities to promote the services and increase consumer awareness. So, in 2012, employees of the branch held seminars and workshops with the heads of authorities of rural settlements and chairmen of horticultural nonprofit partnerships on grid connection and provision of additional services. As usual, one of the most exciting events was the Open Doors Day at the Customer Service Centre, which was dedicated to the Power Engineers' Day.