22.01.2013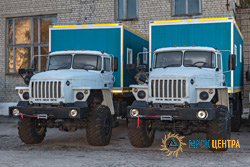 Within the investment program for 2012 IDGC of Centre — Voronezhenergo division purchased 169 new vehicles. Today the fleet of the branch consists of 903 vehicles.
Among recent acquisitions — new cars of UAZ 390995, equipped with truck mounted cranes and trailers KAMAZ, tractors with attachments and tractor trailers, drilling and crane vehicles, service and repair car workshops, mobile electrical laboratories, car-lift trucks and snowmobiles, as well as new hydraulic lifts and truck cranes.
In addition, the fleet of Voronezhenergo added four mulchers on tractor chassis, which are designed to clear buffer zones along power lines. A mulcher, which is installed on the tractor, chops wood and brush on the vine and recycles them into sawdust. Thus, in the process of clearing ROWs for power line facilities there is no need to remove forest residues.
According to Chief of mechanization and transport Service of Voronezhenergo Roman Perepelkin, the new vehicles will not only improve the working conditions of power engineers, but also increase the quality of work performed. "The acquired vehicles were distributed in all Distribution Zones of the branch. Their use at work will provide a more rapid response to emergency situations, as well as better implementation of the planned maintenance program, which will eventually increase the reliability of power supply of our customers," — underlined Roman Perepelkin.